Products - Cell Extender®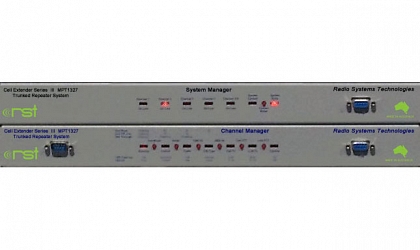 Click on the image to view larger version.
Cell Extender®
Cell Extender (Series III), a recently released upgrade of our successful older generation Cell Extender II system, is a single or multi channel MPT1327 Radio Repeater system, primarily addressed at the Network Operator market, providing low cost, seamless coverage extension of standard MPT1327 networks, existing or new.
Beyond the perimeters of an MPT1327 network coverage will always "fizz-out" or be completely unavailable. Adding to this are "holes and gaps" within a systems network caused by undulating landscape, concrete and underground structures where coverage is marginal or non existent.
As business expand and grow their coverage requirements may extend beyond the boundaries of the networks coverage area or fall within its dead zones promoting the need for a practical and economical solution to extend coverage into these areas. RST's Cell Extender has been designed specifically for this purpose. It's a highly cost effective and readily installed solution effectively offering all the features of a new trunked site at a fraction of the cost.
Cell extender installations usually operate with 3 to 4 channels. One channel dedicated to control channel service and the remaining 2 or 3 channels to traffic channel operation. In areas where demand for coverage is low but nevertheless necessary a low cost alternative of Cell Extender known as SCSA ( Single Channel Self Assign) is available. SCSA operates with a single RF channel using a unique "Self Assign" method to switch from control channel to traffic channel operation when a user makes a call. As traffic demand grows additional channels can be readily installed.


Downloads
Brochure(s) containing product specifications and accessory details is available for download.